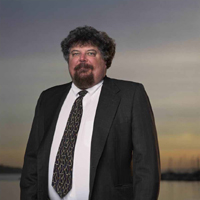 James M. Beard
James Beard has a unique understanding and compassion for the clients he represents. His 26 year legal career has been devoted to representing accident injury victims. He is widely recognized as one of the most experienced lawyers in the nation in handling maritime death cases.
Beard is proud of his roots growing up in Ilwaco, Washington, a small fishing village located at the mouth of the Columbia River. He worked his way through college and law school on fishing vessels, oyster dredges, and doing longshore work breaking freight. He has never forgotten his experience of falling overboard off a barge while trying to set an anchor in the middle of the night. Beard's practical experience doing maritime work lets him easily connect with his clients. He understands the individual importance of each of his clients' cases and knows the lasting impact that serious injuries can have on their life.
After graduating from the University of Washington, Beard attended law school at the University of Puget Sound, graduating in 1983. Working in a big law firm never interested Beard. By 1986 he had established his own practice in Ballard, Washington, and quickly began representing injured fishermen. Successful results in wrongful death cases for crewmen of the Alaska crab boat VESTJFORD and the factory trawler ALEUTIAN ENTERPRISE made Jones Act and maritime injury claims the full time focus of his law practice. Over the past 20 years, Beard has been involved in handling many other high profile fishing vessel sinking cases including the sinkings of the ALASKA RANGER, ARCTIC ROSE, GALAXY, AMBER DAWN, NESIKA, KATMAI, PACE SETTER, and PACIFIC APOLLO.
In 1996 Beard's maritime practice expanded and he forged a partnership with Joe Stacey. They moved their offices to its current location overlooking Fisherman's Terminal in Seattle. Within a year, Beard and Stacey joined forces with Lanning Trueb, opening maritime injury law offices in Anchorage and Kodiak. Jim Jacobsen completed the firm when he joined in 2000. Beard Stacey & Jacobsen have handled thousands of Jones Act injury accidents involving accidents for crab fishermen, fishing boat deckhands, fish processors, maritime construction workers, crewmen aboard tugs and barges, masters, mates, pilots, and ferry boat workers.
Beard takes great pride in having successfully gotten compensation for catastrophically injured clients in difficult cases that other lawyers said couldn't be won. Beard Stacey & Jacobsen, LLP are believed to have more million dollar maritime injury and death verdicts and settlements than any other firm in the Northwest. The firm successfully applies the experience, skill and knowledge learned in handling those large cases to all the clients they represent.
Beard is admitted to practice law in Alaska, Washington, and Oregon. Just as fishing has changed in the past 25 years, so has the practice of maritime injury law. Today Beard and his two partners, Stacey and Jacobsen, work in multiple jurisdictions and represent clients living throughout the nation. Having three experienced maritime personal injury lawyers in the firm allows them to take a team approach to handling cases involving catastrophic injuries and wrongful deaths.