Coos Bay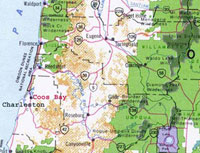 Located in the southern part of Oregon, Coos Bay is the second busiest port in the state, with an average of 2.5 million tons of cargo passing through it each year. The port of Coos Bay is 173 nautical miles south of the Columbia River mouth, with a 15-mile channel feeding into the ocean.
Coos Bay is one of the largest ports in the world for forest products, with the majority of shipped tonnage consisting of wood products. Coos Bay is also the second busiest maritime commerce center in Oregon. The Port of Coos Bay offers one of the safest entrances on the Pacific Northwest coast. Hundreds of ships of various types and sizes visit the port, shipping an average of three million tons of commodities.
We at Stacey & Jacobsen, PLLC are proud of our history of representing seamen from all types of maritime industry. We have represented fishermen, oil rig workers, dock workers, cannery employees, longshoremen, and merchant marines from all over the world, the North Pacific, in particular. We have decades of experience in maritime law, and we are licensed in Washington, Alaska and Oregon, exactly where a large percentage of maritime cases are filed. If you have been injured near Coos Bay or anywhere else in the North Pacific, and have questions about your rights, please contact us for a free consultation.