Dutch Harbor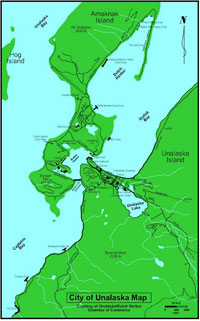 Dutch Harbor: Alaskan Commercial Fishing Industry Hub – Personal Injury at Sea – Jones Act Seamen

Dutch Harbor, located near the town of Unalaska, is at the heart of the North Pacific and Bering Sea fisheries, with an economy that relies heavily on the commercial fishers who conduct their business there. The Bering Sea is a dangerous place, and fishing is the most dangerous job in the world; if the worst happens, the law firm of Stacey & Jacobsen, PLLC is here to help you.

Because Dutch Harbor is a major hub in the Bering Sea, the largest seafood companies in the world fish and process in this area; finfish and shellfish are year-around income here, and vessels of all sizes from all fisheries pass through or homeport in Dutch Harbor. According NOAA records for 2012, Dutch Harbor landed 751.5 million pounds of seafood (including halibut, crab, salmon, cod, pollock), valued at $214.2 million, making Dutch the number one port for commercial fishery landings. The largest fishery in Alaska by volume is pollock, mostly landed through Dutch Harbor. The seafood landed and income generated in Dutch Harbor not only supports local communities, but is shipped all over the globe.

The fleets doing business in Dutch Harbor include, to name a few, Fishing Company of Alaska, American Seafoods, Icicle Seafoods, Uni Sea, Westward Seafoods, Alyeska Seafoods, Quota Share Leasing LLC, Bering Fisheries, EAG Quota LLC, and APICDA Joint Venture.

According to the Alaska Department of Fish and Game, in 2011, pollock alone brought in $523 million wholesale, while Pacific cod brought in $93 million wholesale, and snow crab brought over $90 million wholesale to Dutch Harbor. For that same year, direct fishing and processing jobs totaled 56 captains and crew, and then the processing jobs employed around 3,340 people on top of that.

The popular show, "The Deadliest Catch," depicts vessels embarking from Dutch Harbor to catch crab. But the industry fishes for just about everything possible in the area. The list includes king crab, opilio crab, snow crab, various other kinds of shellfish, cod, rockfish, sablefish, pollock, herring, salmon, halibut, flounder, and other ground fish. Fish roe and other fish products are also processed through Dutch Harbor.
Dutch Harbor is a nexus for other transport, too. Among those in the approximately 78,500 fishing industry related jobs in Alaska, there are an estimated over 5,000 fishers and close to 10,000 processors (some on land, some on sea) working in the Bering Sea/Aleutian Islands. The unfortunate odds are that, in a job that is intrinsically dangerous due to sea conditions, weather, and human oversight, some of these people will be injured in the service of a vessel at sea. If you are injured or become ill while employed aboard a fishing vessel in the Bering Sea, it's likely that you will be transported to Iliuliuk Health Clinic there or, if you need specialized medical care, you might pass through Dutch Harbor on the way to Seattle or Portland.

If you have been injured while working on a fishing vessel in the Bering Sea, contact us to find out and understand your rights. We have the resources and expertise to ensure you are treated fairly by your employer. We have represented the men and women in Bering Sea fishing industry for decades. We have over 75 years combined general maritime law and Jones Act experience, including mediation, settlement agreements, and, when necessary, in the court room.