Juneau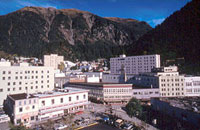 The area where Juneau now sits began as a fishing camp for the indigenous Tlingit Indians, and grew throughout the 1900s after Westerners settled the area and established canneries, mining, timber, and other forms of trade. The City of Juneau was formed in 1900 when Alaska was still a U.S. Territory; the state capitol was transferred from Sitka to Juneau in 1906.
Today, Juneau is the third largest city in Alaska with a population of approximately 32,000 people, notwithstanding the fact thatair and sea travel are still the only ways to get in and out of Juneau. The most prominent industry in Juneau is government, but also includes work related to fishing, timber, mining, and seasonal cruise ship tourism. Fishing remains a major part of the local economy, with gillnet and salmon trolling being the main types.
The lawyers at Stacey & Jacobsen, PLLC are committed to the people working the rewarding yet dangerous waters of Alaska. We recognize and appreciate the status of Juneau as the state capitol, and we keep a close watch on legislation and policies that affect the maritime and fishing industries, especially as a number of strong Alaskan commercial fishing associations are based in Juneau.
If you have been injured while working on a vessel near Juneau, contact us to make certain you understand your rights to such remedies available to injured and ill seamen, such as "maintenance and cure." Our team of attorneys has over 75 years combined general maritime law and Jones Act experience, and the legal resources that go with that experience. Our expertise includes mediation, settlement agreements, and, when necessary, in the court room.