Naknek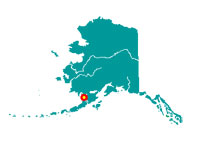 Naknek is located on the north bank of the Naknek River, at the northeastern end of Bristol Bay. Naknek is located 297 miles southwest of Anchorage.
In 1821, the original Eskimo village of "Naugeik" was noted by Capt. Lt. Vasiliev. The first salmon cannery opened on the Naknek River in 1890. By 1900, there were approximately 12 canneries in Bristol Bay. Squatters built shelters on the church property and were eventually sold lots in what became the center of Naknek.
Naknek has developed over the years as a major fishery center. The economy is based on government employment, salmon fishing and processing. Naknek has a seasonal economy as a service center for the huge red salmon fishery in Bristol Bay. Several thousand people typically flood the area during the fishing season. Millions of pounds of salmon are trucked over Naknek-to-King Salmon road each summer, where jets transport the fish to the lower 48. Trident Seafoods, North Pacific Processors, Ocean Beauty and other fish processors operate facilities in Naknek. Naknek is also the seat of the Bristol Bay Borough.
Stacey & Jacobsen, PLLC is the only plaintiff's maritime injury law firm that is not only committed to the North Pacific, but maintains offices in both Alaska and Washington State. Whether our clients are injured at sea, in port or in the countless towns and villages that dot the North Pacific's landscape, our firm can provide the expertise and resources to ensure that you are adequately, properly and aggressively represented.