Nikiski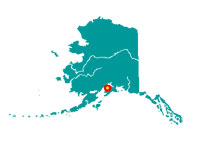 Nikiski – Alaskan Community – Alaskan Fishing

Nikiski is located on the northern shores of the Kenai Peninsula, roughly 60 miles southwest, as the crow flies, of Anchorage and about nine miles north of the town of Kenai.

In 2010, the population of Nikiski was 4,493, so for just under 70 square miles of land, there are an average 65 people per square mile living in Nikiski. The main sources of income for Nikiski residents are mining, quarrying, oil and gas extraction, and manufacturing. The rest are services geared toward the community, such as educational, health, retail, and administrative.

Nikiski area has been selected as the main site for the Alaska LNG Project. For more information on that, you may click here.

The Port of Nikiski is mainly dedicated to the oil and gas economy. However, about 50 residents of the town are listed as holding commercial fishing licenses, and some of the income in Nikiski stems from commercial fishing or sport fishing for tourists. For the most part, fishing in Nikiski is done in the many surrounding rivers, streams, and lakes.

If you are injured working in Nikiski in the small but important fishing industry there, contact us for a free consultation. The law firm of Stacey & Jacobsen, PLLC is committed to those who work the seas in Alaska. If you need help in Nikiski, or were injured working on a vessel anywhere else, our firm can provide the expertise and resources to ensure that you are adequately, properly, and aggressively represented.