Sand Point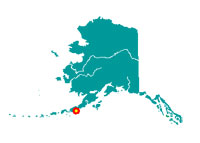 Sand Point is situated roughly in the middle of the Aleutian Chain, on the northwest part of Popof Island. The land was settled by Aleuts and Scandinavian fishing families after Sand Point was first a cod fishing station and trading post in 1874. Currently, nearly half the Sand Point population is of Aleut descent. A number of people living there still make a living working in the fishing industry. Trident Seafoods and Peter Pan both have operations in Sand Point, attracting even more people for seasonal fishing and cannery work. One of the largest fishing fleets in the Aleutian Chain calls Sand Point home.
Stacey & Jacobsen, PLLC represents seamen who have been injured as a result of the dangerous work involved in the fishing industry, as well as on other types of vessels. Unlike many maritime personal injury law firms, we have a substantial presence in Alaska and knowledge of the Alaskan courts, people, and culture.
We are proud of our record in achieving favorable results for our clients. We have obtained multi-million dollar recoveries from court cases in Alaska and Washington. We are licensed to practice law in Alaska, Washington, and Oregon, with the ability to work on cases with attorneys licensed in other states throughout the country. Our regional presence provides litigation options that no other maritime plaintiff law firm offers.