Seattle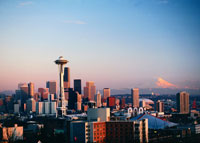 On November 13, 1851, Arthur Denny and a party of approximately 20 people rowed ashore from the schooner Exact to a lonesome, rain-soaked beach where a feverish David Denny waited in a half-built log cabin. This inauspicious moment marked the first step in the journey that would lead to development of modern Seattle and King County, although another party of settlers had staked claims a few weeks earlier in present-day Georgetown.
Most Seattle founders abandoned the original settlement for the eastern shores of Elliott Bay and a new name for their "West Seattle" claim. By 1900, Seattle was a burgeoning metropolis whose population would triple to 240,000 over the course of the twentieth century's first decade.
With a population of a little less than 600,000, Seattle is a major center for advanced technology such as computer software, electronics, medical equipment and environmental engineering. Two of its largest employers are Boeing and Microsoft, but Seattle's maritime history is well preserved and, in fact, thriving. Together the Ports of Seattle and Tacoma represent the second-largest container load center in the United States. The Washington State fishing industry catches and processes more fish annually than any other state.
Stacey & Jacobsen, PLLC's main office is located in the eclectic metropolis of downtown Seattle. Seattle, with its long and diverse maritime history and thriving port, is ideally suited for our practice. Most maritime injury cases that occur in the North Pacific are eligible for a claim being made or a lawsuit filed in either Seattle or Anchorage. Stacey & Jacobsen, PLLC is the only plaintiff's maritime personal injury law firm with fully staffed offices in both Seattle and Anchorage.