St. Paul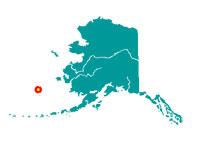 St. Paul, Alaska: Commercial Fishing Industry – Maritime Personal Injury – Jones Act Seamen

St. Paul is located among the Pribilof Islands in the middle of the Bering Sea, where temperatures remain cool, averaging within a range of 19 – 51 degrees Fahrenheit during the year. Due to its isolated locale, St. Paul is where the Central Bering Sea fishing fleet offloads their catches of cod, halibut, crab and other seafood. At 500,000 pounds of crab processed daily during the season, Trident Seafoods has the largest crab production facility in the world in St. Paul. Icicle Seafoods fishes three floating processors in the area. Many processing vessels berth in St. Paul for service and repairs.

If you are injured or take ill near St. Paul, you may end up visiting the St. Paul Health Clinic for initial care. Whenever there is seafood to be caught in the area and offloaded to be processed and shipped, the small Aleut fishing town of St. Paul keeps busy.

The attorneys at Stacey & Jacobsen, PLLC have been representing injured and ill fishermen and processors in the Bering Sea for decades, and have over 75 years of general maritime law and Jones Act experience among them. If you have been injured or ill while working in Alaska on a fishing vessel owned by Trident, Icicle, or another fishing company, contact our attorneys to make sure your employer is honoring your right to medical treatment and fair compensation.